About Alapay Cellars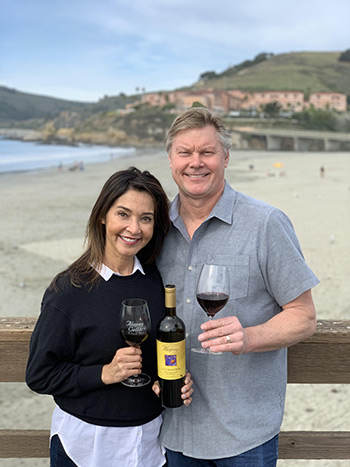 Alapay Cellars (BW-CA-6506) was founded in 2001 by Owner/Winemakers Scott and Rebecca Remmenga of Avila Beach, California.
Previously, Scott was a 1986 graduate of Cal Poly majoring in Graphic Communications, after becoming enamored with what San Luis Obispo County had to offer; Scott began to utilize his degree and started a printing company called, The Printing Connection. His company specialized in the production of labels for wineries throughout California and the United States. After 14 years of successful growth and networking with countless winemakers and owners, Scott decided to sell his printing company and follow in the footsteps of his past clients. Scott's formal winemaking training came primarily from two exceptional winemakers whom he was producing wine labels for—Clay Brock (Edna Valley Vineyards/Zaca Mesa Winery) and Steve Felton (EOS Estate Winery).
In the early days, Scott went by his old alma mater's slogan "Learn by doing." Being a fly on the wall and asking as many questions as he could, Scott started off his first year producing only 12 barrels and with that, Alapay was born. After only a few months, Scott met Rebecca and immediately there was a mutual spark! As Scott handled producing the wine, Rebecca would handle the business management and sales end of things. The two opened Alapay's original tasting room in 2002 in downtown Avila Beach—shortly after the town reopened following the Unocal 76 oil remediation project. This 450 sq. ft. space, a converted Unocal 76 business office, served them well for a 5 years until something bigger was needed. In 2006, construction of our current tasting room was completed combining the feel of the beach with the comfort and indulgence of wine tasting. With a large salt water aquariums, an ocean mural, and hand painted décor, this 1,700 sq. ft. location has been the epicenter of wine tasting in Avila beach.
Currently, Alapay Cellars case production draws over 5000 cases annually producing all types of wines such as reds and whites, as well as, dessert wines and a wonderful sparkling cuvee. Over 95% of the wineries sales are currently direct-to-consumer, insuring Scott and Rebecca's commitment to keeping the wines exclusive and special. Grapes are harvested from premium vineyards on the Central Coast (Santa Ynez Valley to Paso Robles) to provide a nice balance of offerings from both dark, heavy, tannic wines--to soft, dainty, delicate wines as well. Scott produces his wines in Santa Maria, about 30 minutes south of Avila Beach.
Alapay Cellars is the largest winery in Avila beach with the longest presence. We have prided ourselves for a reputation of high quality wines and a fun "winetasting without the attitude" experience. Scott and Rebecca are both still very much involved with the winery and more times than not, you will see Scott pouring in the tasting room. Approachable, knowledgeable, and friendly are what we care most dearly about, come on in and see for yourself!